This grilled salmon with lemon and dill will be a fast favorite for anyone looking to cook a simple yet delicious meal. And now that it is grilling season, be sure to add this healthy option to your meal rotation.
What you will Love About This Salmon Recipe
This salmon recipe is easy but also delicious. Grilling only take about 20 minutes and there is a lot of flavor from the fresh lemon juice and fresh dill. This entrée pairs well with just about every side dish and vegetable.
Salmon is also a healthy entrée that provides a lot of good nutrition. I provide more information about this further down in the article.
Ingredients for Grilled Salmon With Lemon and Dill
This recipe calls for 1 pound of fresh salmon filet. I cannot stress enough the importance of using fresh, good quality salmon. In fact, if you typically do not like eating fish, it may be because you are not cooking with high quality fish.
I encourage you to seek out a fishmonger near you. You will be able to tell the difference when you cook and eat fresh high quality salmon. The smell and the flavor of seafood are greatly affected by quality and freshness.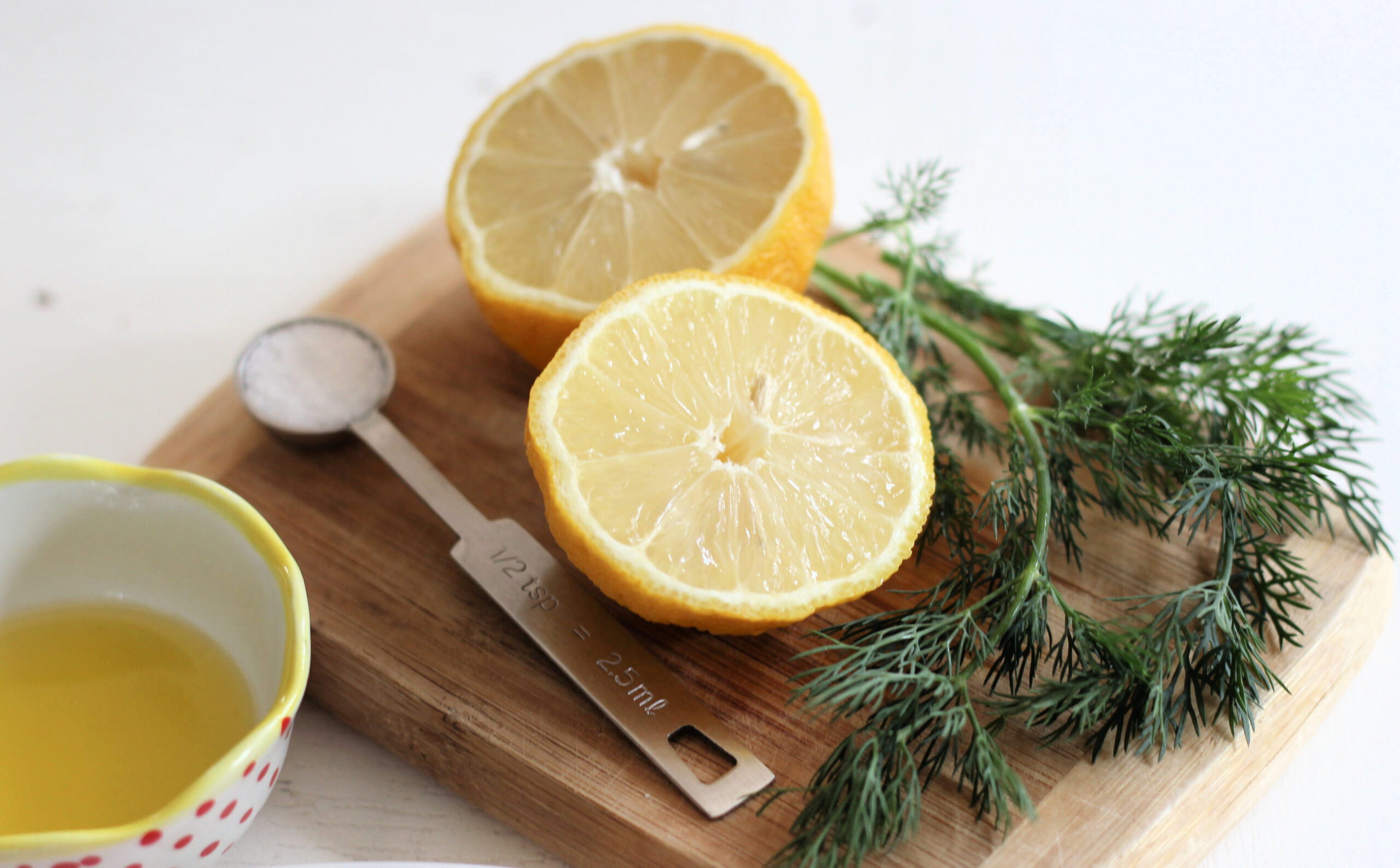 This salmon is topped with olive oil, freshly squeezed lemon juice, fresh dill, kosher salt and freshly cracked black pepper.
You may have noticed that a lot of the ingredients for this recipe are fresh. Fresh ingredients offer more flavor and more interest. For example, when you cook with fresh herbs the smell when you chop or cut them is so tantalizing. Fresh dill is no exception.
If needed, you can use dried dill in place of fresh dill and you can replace fresh lemon juice with bottled lemon juice. And feel free to use pre-ground pepper instead of freshly cracked pepper. I often use dried herbs/spices and bottle lemon juice myself, but when I am able I do like to use fresh ingredients.
Prepping & Grilling the Salmon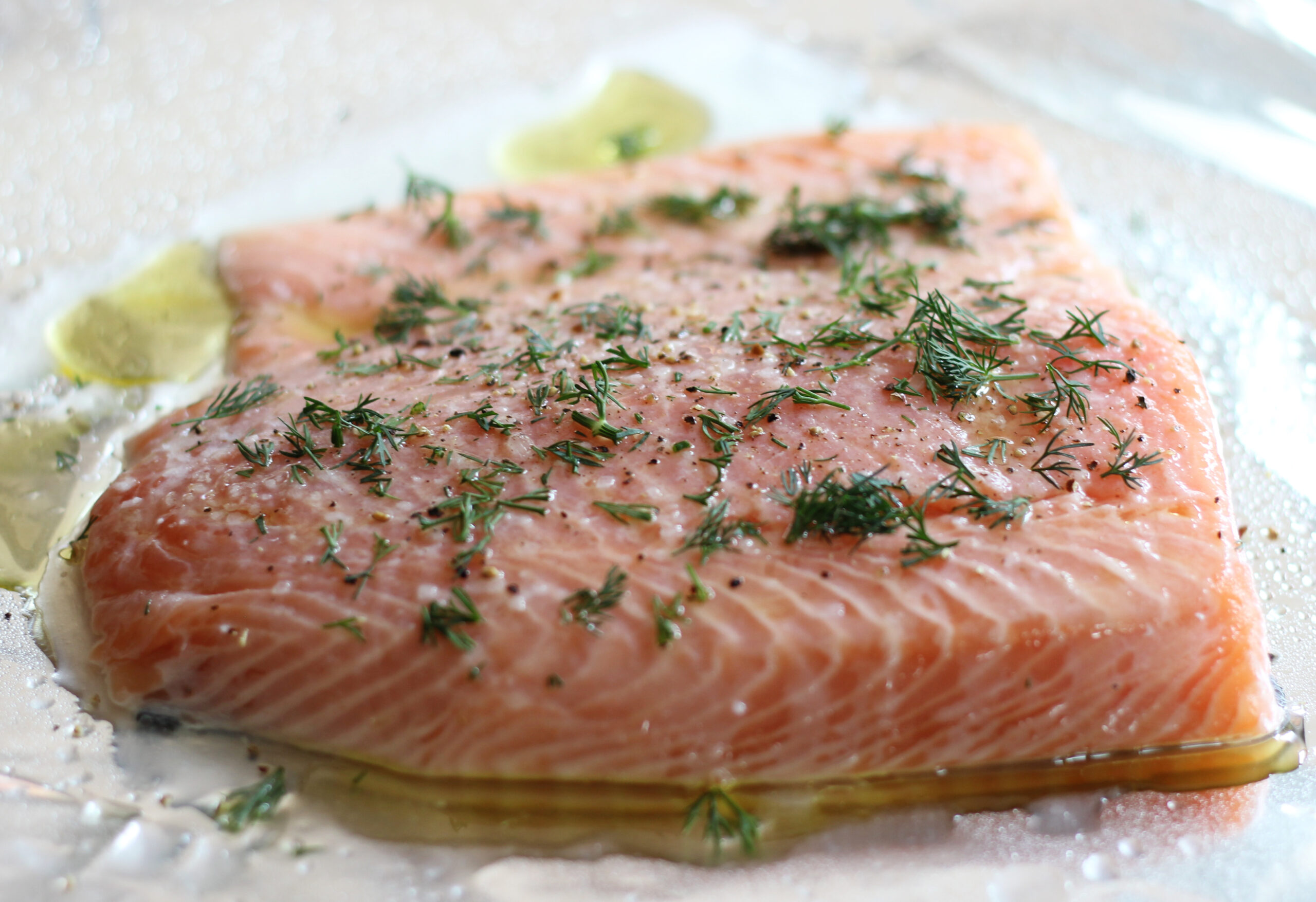 I place my salmon filet on lightly oiled foil to prevent the filet from sticking. After adding the oil, lemon, salt, pepper and dill I fold the foil over the salmon as pictured above to create a foil packet.
The grill is heated to about 400° and I cook the salmon for 20-25 minutes, or until the internal temperature reaches 145° at the thickest part of the filet. This temperature recommendation is sourced from the USDA.
Nutrition
This recipe is a great alternative to fried fish. Fried foods have additional calories, carbohydrates, saturated fats and cholesterol. I think that fried foods can be enjoyed on occasion, but if you always defer to fried fish when you eat seafood, give this grilled recipe a try. There is no lack of flavor and it will serve your body well.
You may know this already, but salmon has a good amount of omega-3 fats. One serving of this recipe provides 2.8 gm of omega-3 fats. These fats are important to our heart health. If you want to read more about omega-3 fats and heart healthy eating check out my article, Heart Healthy Eating.
One serving of this grilled salmon also provides about 23 gm protein, 12.5 mcg vitamin D, 417 mg potassium and 273 mg phosphorus. Salmon is truly a powerhouse!
Grilled Salmon With Lemon and Dill Recipe
Yield: 4
Grilled Salmon With Lemon and Dill
Savory grilled salmon that is delicious, healthy and easy to make
Ingredients
1 lb fresh salmon filet
Freshly squeezed lemon juice from 1/2 lemon
2 tsp olive oil
2 sprigs fresh dill chopped
1/4 tsp kosher salt
Freshly cracked black pepper to taste
Instructions
Preheat grill to 400 degrees.* Lightly oil a large piece of foil that is large enough to fold over the salmon.
Top salmon with the lemon juice, olive oil, kosher salt, pepper and dill.
Create a foil packet by folding the sides of the foil over the salmon lengthwise and then folding remaining sides over the salmon.
Place on grill and close. Cook for 20-25 minutes, or until thickest part of filet reaches 145.°
Carefully remove foil packet with salmon to a plate. The oil and lemon juice will be very hot and may splatter upon unfolding the foil.
Enjoy!
Notes
*If you do not have a grill, feel free to bake the salmon in an oven preheated to 400°. You do not need to fold the foil over the top of the salmon if you bake in an oven.
Fresh ingredients may be substituted as needed. You may use bottled lemon juice in place of fresh lemon, dried dill instead of fresh dill, and pre-ground pepper in place of freshly cracked pepper.
One 4 oz serving of this recipe has 417 mg potassium and 273 mg phosphorus.
Nutrition Information
Yield
4
Serving Size
4 oz
Amount Per Serving
Calories

251
Total Fat

17.5g
Saturated Fat

3.75g
Cholesterol

62.5mg
Sodium

217mg
Carbohydrates

0.3g
Fiber

0g
Sugar

0.1g
Protein

23.25g
Nutrition facts are calculated using data from nutrient analysis software that utilizes data from USDA and Nutritionix. Therefore, the nutrition facts are estimates based on general nutrient analysis data. Different variables may affect the accuracy of these nutrition facts. Variables may include different brands of food items used and any changes made to the ingredients called for in the recipe. Nutrition facts are most accurate when using nutrition fact labels on actual ingredients used.
What to Serve Alongside This Recipe
I always like to serve my salmon with leftover lemon wedges to squeeze some fresh lemon juice on top. The lemon adds some fun brightness and extra flavor.
Grilled salmon will go well with any of your favorite vegetables and side dishes. I really enjoy serving this with broccoli or asparagus and orzo for a grain. Other sides this dish would pair well with include a green salad, roasted vegetables, au gratin potatoes, mashed potatoes and rice.
I hope you enjoy this recipe; if you try it and love it please give it a 5 star rating!